Shenzhen is the largest electronic market in China. And it attracts increasing foreign buyers to visit every year. But how to find a  Reliable Refurbished Cellphone Manufacturer?
Also, where do those purchasers mostly go? 
The answer is Huaqiangbei, namely Huaqiang Bei, or Hua Qiang Bei, or Huaqiang north. It is the name of a road in the central area of Shenzhen city. There are so many electronics markets like Saige (SEG) Electronics Market, Ming Tong Market, Long Sheng Market, Tong Tian Di Market, Hua Lian Fa Market as well as different markets which focus on selling different Consumer electronics.
Our team in Tong Tian Di Market often meet with any foreign wholesalers.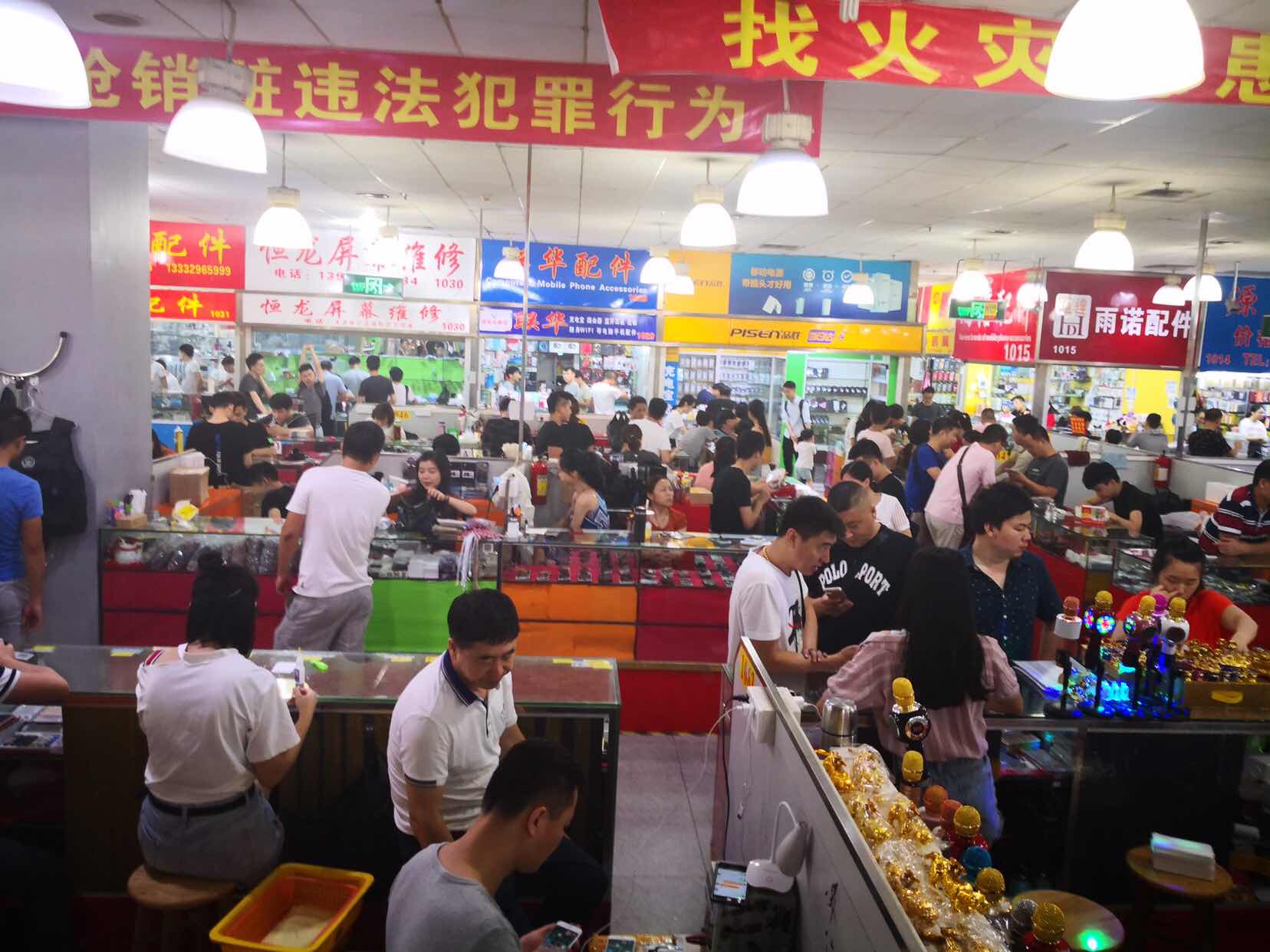 Why they come?
 They would like to find some reliable refurbished manufacturers, namely factory, to get better prices and higher quality. However, if you come to buy consumer products such as the speaker, digital camera, smart wristbands, and earphone spare parts, it is a good idea to do so. But if you are refurbished cellphone buyers who want to get refurbished cellphones as Apple, Samsung, we don't suggest you come here directly. It is impossible to find a manufacturer supplier if you have no local business guide.
4 Reasons why you should not come directly
It is very hard for you to find refurbished cell phones. As mentioned above, there are so many markets in Huaqiangbei. If you walk into the wrong market, you might get cheated to buy high copy iPhones.

 Most of the manufactures there can not speak English. Maybe you find a very reliable supplier before leaving Shenzhen, but it will be difficult for further communication. Besides, most of the manufacturers are not familiar with exporting. So you have to find an international logistic company. It takes risks.

As in our earlier blog: Whether there is a factory for a refurbished smartphone in china? Some of the refurbished smartphone manufacturers are small-sized and only focus on refurbishing few phone models. If you need refurbished cellphones in many kinds, it is not easy to find. As you know, there are more than 1000 refurbished smartphone manufacturers in the market, who to choose? and which to cooperate with?

The most important is that there are few quality standards for refurbished cell phones, especially for refurbished iphone and refurbished samsung, even refurbished Nokia mobiles. They are grade A+, GradeA, Grade B, Grade C. And you might get Grade C refurbished phones but paying as Grade A.
So if you are going to start refurbished smartphone business or to change supplier, what should you do? 
The 5 proper wayS is as below:
 Try to search for some refurbished smartphone suppliers(if you are lucky enough, to find some suppliers like us is not hard. They are not only marketing but also manufacturing refurbished smartphones. Pls do believe that the wholesale refurbished smartphone Manufacturer suppliers are existing.

Compare them from different angles

Pay close attention to their websites or shops to confirm if they are trading companies or manufacturers.

Chose the best of them to place a sample order to check quality.

If the sample order quality is not bad, and before making permanent cooperation, we suggest you come to their office for double

check.
Finally, If any of you are going to visit China soon, welcome to contact us, we will try our best to give you the best advice.